Pearlfisher is an independent brand design agency in London and New York, We create simpler, lighter, more desirable ideas for the future. With Futurists, Strategists, Designers and Realizers all observing, imagining, and expressing change, we design for life.
Design for life means understanding how people's needs and desires are changing so that we can design for the lives we will all want to live. We invite you to join our collective of experts and enthusiasts and contribute to our ambitions through your creative & strategic excellence, business performance and contribution to our collaborative culture
Our Collaborative Culture
We don't have a rigid process or procedure, but we do have a set of beliefs that guide and inform what we look for in "our people". The belief that good ideas can come from anywhere and that everyone at Pearlfisher can create change for a better future. If you're into ideas no matter how big or small, switched-on thinking, initiative-taking, following your gut and making things happen, then welcome to a world where being talented, ambitious, self-aware, empathetic, and collaborative will take you far.
Report to:
VP. Executive Creative Director 
Overall Remit

The Design Director will contribute to Pearlfisher's constant pursuit for innovative, idea-driven design, helping to facilitate teamwork in order to achieve the highest caliber of work. The ideal candidate will also be a positive addition to the creative and collaborative culture of Pearlfisher New York.
Only candidates with 6+ years of experience need apply.
Specific Responsibilities
Develop brand / packaging design strategies for clients in a wide range of consumer goods and branding markets
Manage design and execution of projects
Comprehensive presentation of work to clients
Direct supervision of junior designers and help drive a collaborative and cohesive team throughout the design exploration and development; defines perimeters of project and helps teamwork within set parameters
Adjusts design and design execution strategy to meet evolving marketing and maintains awareness of competitors and market trends in market and product lines
Attend kick-off meetings, design presentations, internal design reviews as needed (Travel may be required 0-5 times per month)
Knowledge of business strategy, competitor markets and productions, technologies, and market growth and innovations
Energizes projects by stimulating innovative, risk-taking ideas and teamwork
Continues professional development through developed detailed understanding industry best practices and design processes
Have a good knowledge & understanding of the realization process
Participate in interview process with graduates. Be willing to give feedback and work with interns in the design process
Displays ownership of projects from start to finish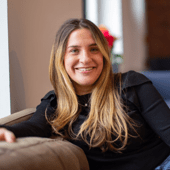 Contact
Nicole Kalyuskin
Director of Employee Engagement & Talent, New York – Talent
Studios & Culture
We are based in 2 cities renowned for design excellence - London and New York. Each of our Studios are unique but our unrivalled culture ties us together. So whether you're enjoying rooftop gigs in New York, exhibitions at our studio in London or one of our trips all together, we are certain you'll fall in love with life at Pearlfisher.
About Pearlfisher
Pearlfisher is an independent brand design agency in London and New York. Working with clients including Heineken, McDonald's, Seedlip, Bang & Olufsen and Ocean Generation, we design for the lives people want to live.
We can't wait for you to join us.
Already working at Pearlfisher?
Let's recruit together and find your next colleague.