Futures
·
London
·
Hybrid Remote
Futures Analyst
A mid-level role within a future-focused brand design agency.
This is
A mid-level role within a future-focused brand design agency.
We need you to
Join a talented and highly regarded team to deliver the Futures offer within Pearlfisher.
This is a key role requiring the highest level of
Inquisitivity and resourcefulness / Bold creativity / Engaging communication skills.
You will show us that you have
A talent for seeing the patterns inherent in insight and data, and the ability to understand and distil their meaning.
The ability to choose the right methodology for our research and continual development of creative and innovative research techniques.
The ability to bring to life findings, cultural, category and consumer insight reports to life in an engaging and stimulating ways.
Demonstrable experience of interrogating and challenging briefs to ensure consideration of all influencing aspects based on research.
The minimum we need from you is
Three years minimum experience working within insights and innovation.
A keen interest and understanding of brands, human behaviour, trend forecasting, data points and immersing in culture and the consumers world across a range of categories including food and drink, beauty and personal care, sport, luxury and fashion, design, technology, finance, healthcare and wellbeing, entertainment.
An understanding of key channels of communication including product, retail, digital, advertising, brand experience.
Strong written and visual skills.
You will
Own your own projects and clients and the delivery of Futures, reporting the Futures Director and Partner.
Teach the wider business about our intellectual IP and capabilities through delivering our monthly Futures Feed.
Learn how to ideate Futures thinking through a busy and fast-paced studio.
Improve your analytical and creative skills by implementing key areas for future innovation with support from senior Futures, Strategy and Design team members and in collaboration with our creative teams.
Within 1 month, you'll:
Complete our onboarding process, including learning the nuts and bolts of our business through inductions with key members of the wider team.
Shadow the senior members of the Futures team to learn their methods of trend research and the patterns inherent in insight, developing the ability to understand and distil these into key perspectives and reports.
Bring enthusiasm and energy to your role while inspiring others to do the same.

Within 3 months, you'll:
Define, create and deliver client projects in collaboration with the other teams within the business. Help to guide the innovation process from workshops to presentations. Working in collaboration to lead these projects, end to end working against multiple deadlines.
Develop new project structures, research techniques and ways of gathering insights from all types of research including partner agencies, articulating key findings and build a compelling argument for change relating to client objectives and opportunities.
Develop sharp, insightful and inspirational perspectives, quantify trends and consumer change in specific markets and sectors and identify the most relevant ideas and opportunities for the client.
Create new, creative and compelling ways to communicate the information and debrief final deliverables depending on the audience and environment.
Guide the team on the innovation journey, whether working on individual briefs or in collaboration with the skills of the Strategy and Design teams.
Collaborate with the Strategy and Design studios to deliver to our clients' needs across a broad range of projects, including design and strategy briefs.
Within 6 months, you'll:
Be a valued part of a collaborative and purposeful team, working across our business forming strong relationships with Strategy, Design and Client teams.
Work with Finance and Business Development teams to align on new areas of opportunity and key sectors for development, supporting them by identifying key insights to support outreach.
Work with the Marketing Communications team to help define the best, most effective and creative ways to share fresh themes of IP to keep us at the forefront of cultural and industry change.
Proactively develop and share our unique perspective. Feed our global IP, sharing information effectively across the Pearlfisher studios as we grow the Futures offer on a global basis.
Adhere to Pearlfisher Compliance principles when creating all support material and internal and external briefings and presentations.
Self-initiate development of your own skills to broaden and enrich the Pearlfisher Futures offer.
Reporting structure
You will report directly our Partner, Futures & Insight. The role will also involve close consultation with the Futures Director, Strategy Team, Design Team, Marketing & Communication Team , Client Management and all other Pearlfisher teams.
---
Futures anticipates and interprets change to capture desire in culture, helping us shape opportunities for brands and feed our creative culture.
Pearlfisher Futures has played a pivotal role in informing and inspiring transformative thinking and original creativity throughout our 30-year history.
Supporting our philosophy of 'Design for life' our Futurists look at how the world is changing and explore the big shifts that are shaping our lives. Understanding and interpreting key themes of cultural, category and consumer change at its leading edge: through a combination of unique expertise and research methodologies, our trusted network of opinion formers, and on-going representation at selected industry events and on renowned global platforms.
Pearlfisher Futures is unique within the Pearlfisher business in terms of its internal and external focus; inspiring and informing the internal teams while simultaneously working directly with our clients to create new streams of commercial growth.
We work with brands of varying size and scale based on our belief in the creative challenge and business opportunity. From the big consumer brands in food, beverage and personal care, including tier one businesses such as Pernod Ricard, Nestle and Unilever, to new to world, owner managed and family-owned brands, venture capitalists and start-ups. We tailor our futures work to adapt to our clients short, medium, and long-term business needs, to inform and inspire both leading edge behaviour and expression.
---
We foster a welcoming, diverse and inclusive workplace culture where everyone is treated with respect and dignity.
Each of us thrives when everyone feels valued for who they are, regardless of gender, race, religion, social class, disability, sexual orientation or background. We leave no room for discrimination of any kind because we believe we have a unique opportunity and obligation to design more equitable ways of living and working.
As long as you have the experience required for the role, we welcome applications from all walks of life and these will be judged on talent, first and foremost.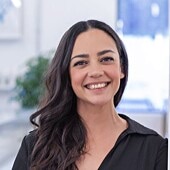 Contact
Becs Baker
Head of Talent, London – Talent
Studios & Culture
We are based in 2 cities renowned for design excellence - London and New York. Each of our Studios are unique but our unrivalled culture ties us together. So whether you're enjoying rooftop gigs in New York, exhibitions at our studio in London or one of our trips all together, we are certain you'll fall in love with life at Pearlfisher.
About Pearlfisher
Pearlfisher is an independent brand design agency in London and New York. Working with clients including Heineken, McDonald's, Seedlip, Bang & Olufsen and Ocean Generation, we design for the lives people want to live.
We can't wait for you to join us.
Futures
·
London
·
Hybrid Remote
Futures Analyst
A mid-level role within a future-focused brand design agency.
Loading application form