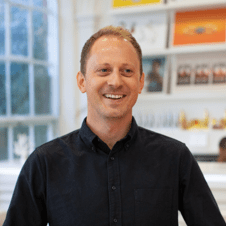 Jon Nicholls
Technology Director, Global – Operations
My responsibility as Technology Director at Pearlfisher is to lead the global IT team and the management, strategy and execution of IT for the business.

I oversee technical projects in alignment with our development goals, constantly finding new ways to design and integrate new technology to enable the business and each individual within our team to operate more easily and efficiently. I like the challenge of constantly looking for new ways to benefit the daily interactions our team make both internally and externally and to future-proof our global operation.

In my downtime, I enjoy cycling to explore, socialise and take in the sights and sounds of life in or out of the city.