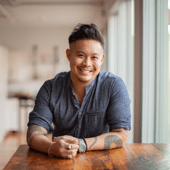 Matt Sia
Creative Director, New York – Design
With over a fifteen years of design experience, I've done a broad range of work from brand identity, packaging and fashion to crafting type and illustration.

I employ a hands-on approach and careful attention to detail in guiding the design team on an array of projects. Historically I've been particularly adept at designing spirits and they've become kind of a specialty of mine.

I love ideating and sketching. Bouncing ideas off other designers, strategists and business managers is always fun. What we do is iterative and it's always nice to get fresh perspective.

In my own time, I like to build and sculpt as well as write and perform music.