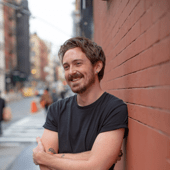 Nile Hope
Design Director, New York – Design
My love affair with design started in school – designing logos and album covers for bands, some of which I played in. I was lucky enough to continue designing professionally, and have since worked on a variety of sectors ranging from alcohol to coffee to fashion and personal care. The variety in my past work has made me a flexible designer. I never approach a project the same way twice and always look to deliver inspiring and unpredictable work. 
Prior to moving to New York I lived in London for 7 years, working with some of the best minds in the industry and learned to balance the importance of big conceptual thinking with an eye for detail and craft.
I originally hail from the North East of England, and although New York might be my new home, I'm still a diehard follower of Newcastle United Football Club (although I guess it's time I started calling it soccer). I'm still passionate about music and also enjoy cooking.